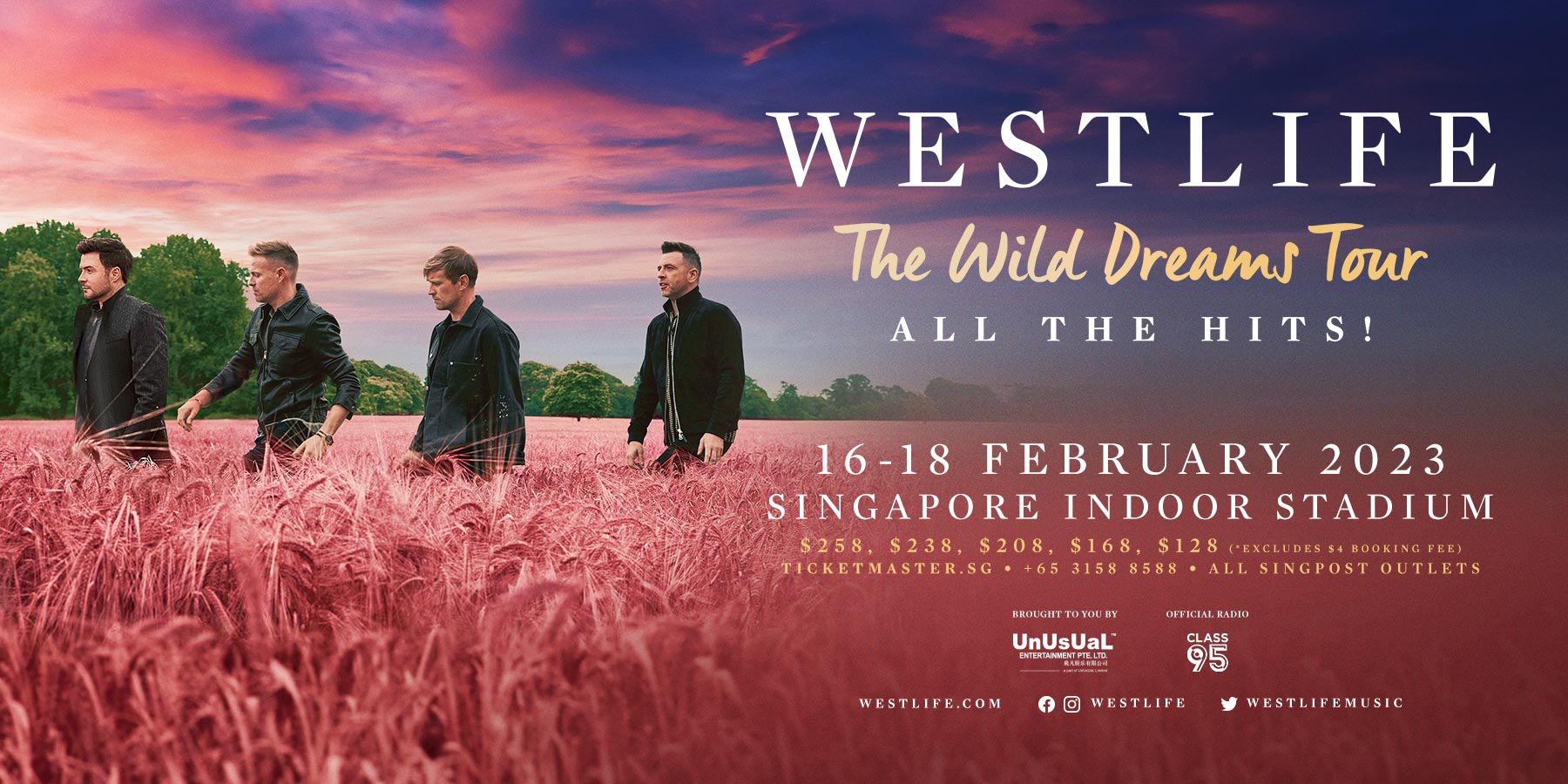 Concert Details
Westlife heads for a record-breaking third night on 18 February 2023!
Tickets to Westlife "The Wild Dreams Tour" on 16 and 17 February 2023 sold out swiftly after going on sale. To meet the overwhelming demand, Unusual Entertainment is thrilled to announce a third show, an exceptional achievement for the band.
One of Asia's favourite pop group, the global pop kings kicked off their Wild Dreams Tour in summer this year, performing across the UK, including a sold-out headline show at London's iconic Wembley Stadium which was shown live in cinemas across the UK and Europe. The Asia stops will include Singapore, Malaysia, Thailand, Taiwan, Indonesia and the Philippines, where Westlife will perform their greatest hits "Swear It Again", "Flying Without Wings", "World Of Our Own", "My Love", "If I Let You Go", "Uptown Girl", "Hello My Love" as well as fresh pop anthems from their new album.
Date & Time
Location
Description
Thursday
16 February 2023
8:00 PM
Singapore Indoor Stadium

*SOLD OUT*

Tickets On Sale: 6 October 2022 (Thu), 12pm

Ticket Price: $258, $238, $208, $168, $128 (*excludes $4 booking fee)

Ticketing Hotline: +65 3158 8588 or log onto www.ticketmaster.sg

Tickets also available at all Singpost outlets islandwide
Date & Time
Location
Description
Friday
17 February 2023
8:00 PM
Singapore Indoor Stadium

*SOLD OUT*

Tickets On Sale: 13 October 2022 (Thu), 12pm

Ticket Price: $258, $238, $208, $168, $128 (*excludes $4 booking fee)

Ticketing Hotline: +65 3158 8588 or log onto www.ticketmaster.sg

Tickets also available at all Singpost outlets islandwide
Date & Time
Location
Description
Saturday
18 February 2023
8:00 PM
Singapore Indoor Stadium

Tickets On Sale: 4 November 2022 (Fri), 12pm

Ticket Price: $258, $238, $208, $168, $128 (*excludes $4 booking fee)

Ticketing Hotline: +65 3158 8588 or log onto www.ticketmaster.sg

Tickets also available at all Singpost outlets islandwide