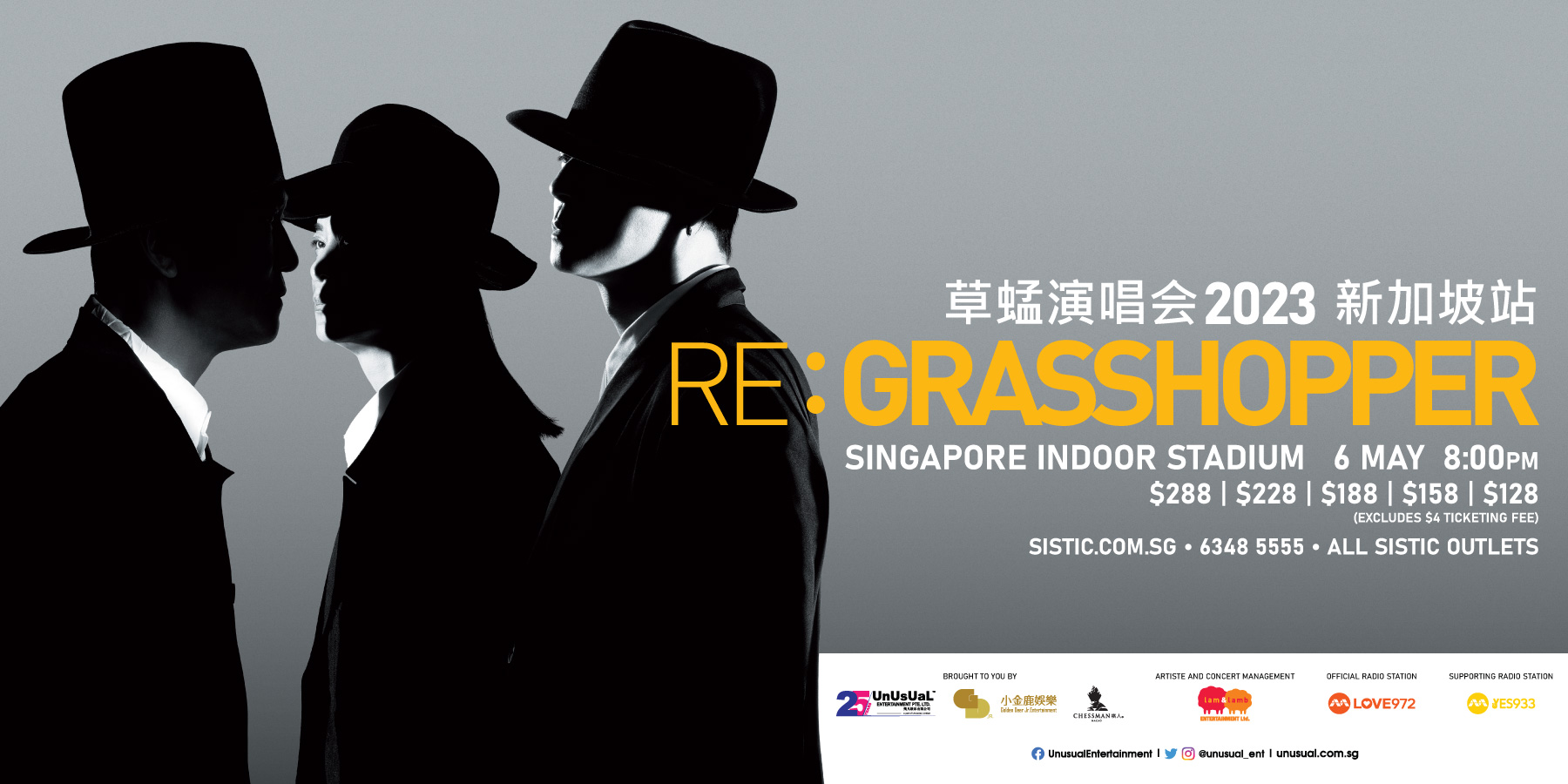 Concert Details
RE: GRASSHOPPER Concert Tour in Singapore will take place on 6 May at Singapore Indoor Stadium

Grasshopper's brand new "RE:GRASSHOPPER " Concert Tour 2023 will involve 100 minutes of singing and dancing, a well-designed stage, and a performance full of sincerity. It is bound to create new memories with everyone at this concert.

Hong Kong's legendary Cantopop group, GRASSHOPPER, will be performing their new
「RE:GRASSHOPPER」Concert Tour in Singapore on the 6 May 2023 at the SINGAPORE INDOOR STADIUM after 6 years. This concert means a lot to GRASSHOPPER. Since 38 years after debuting, the three members have continued to keep their bodies fit to perform a wonderful show at their full strength for all the fans that haven't seen them for years.

This concert, RE:GRASSHOPPER holds many memories for them and their fans. This name represent Recall、Restart、Reborn、Reunion、Rearrange、Rehab. GRASSHOPPER's music accompanied their fans throughout these 38 years, from their childhood days in school to going into society, from starting a relationship to ending one, going through marriage to having their very own family and bringing their children to the concert. Let's recall!Let's bring back all the good memories of listening to Grasshopper!

「RE:GRASSHOPPER 巡迴演唱會」新加坡站 就在 5 月 6 日 新加坡室内体育馆开唱。
草蜢 全新「RE:GRASSHOPPER 巡迴演唱会」唱跳 100 分钟、精心设计的舞台,诚意满满的表演,势必在这场演唱會中,要與大家創造全新的回憶。

殿堂级香港唱跳组合, 草蜢,暌违 6 年即将在 5 月 6 日,带着全新「RE:GRASSHOPPER 巡迴演唱會」登上新加坡室内体育馆的舞台。这是一场对草蜢来说意义非凡的演唱会。出道 38 年,
三人靠着运动健身维持完美体态,神采奕奕的与好久不见的歌迷朋友們见面。将倾尽全力为观
众带来最精彩的演出。

演唱会取名「RE:GRASSHOPPER」有着草蜢深刻而诚挚的心意, 包含: Recall、Restart、
Reborn、Reunion、Rearrange、Rehab。草蜢的音乐陪伴着大家 38 个年头,从上课的日子到上班的光阴、谈恋爱到失恋、到结婚、生小孩,再带小孩来看草蜢. Let's recall! 让我们一
起找回曾经听草蜢的歌的所有美好回忆!
Date & Time
Location
Description
Saturday
6 May 2023
8:00 PM
Singapore Indoor Stadium

Tickets On Sale: 15 March 2023 (Wed), 12pm

Ticket price: $288, $228, $188, $158, $128 (excludes $4 ticketing fee)

Ticketing Hotline: +65 3158 8588 or log onto www.sistic.com.sg

Tickets also available at all SISTIC outlets