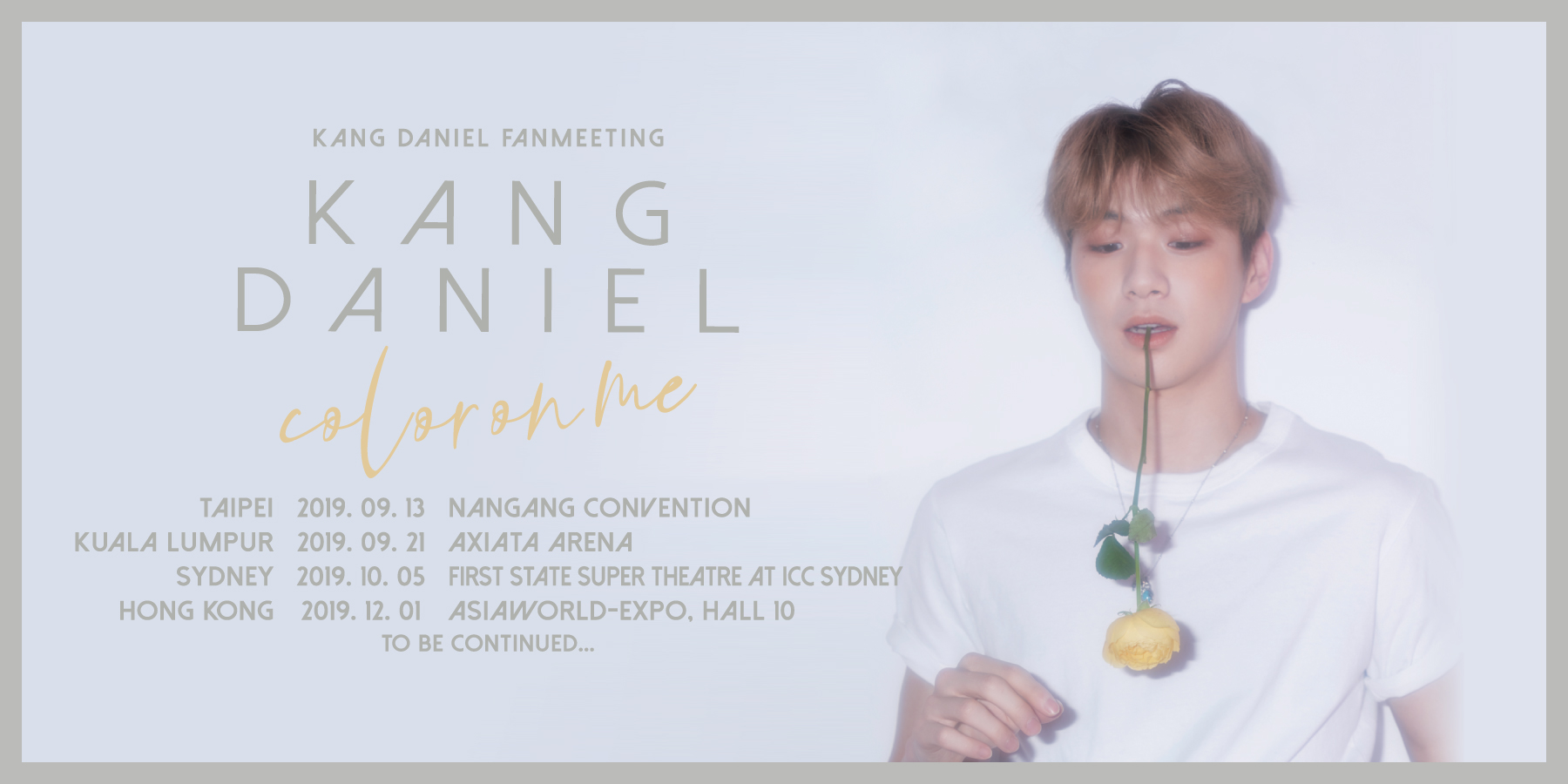 Concert Details
Kang Daniel debuted as the center of a popular group Wanna One in 2017 after winning on survival show 'Produce 101'. He garnered the nickname 'National Idol' as he was voted as the champion of the show by the whole nation. He has been ranked 1st on since debut and remains on the chart for 69 consecutive weeks. He was recognized for his brand recognition and marketing power, having topped both 'Male Model Brand Power Ranking' and 'Individual Boy Group Members Brand Power Ranking', published by the Korean Corporate Reputation Research Institute. He officially debuted on 25th July as a solo artist with the album 'Color on Me'. Following the release of his solo album, he will be touring Asia with his Fan Meeting 'Color on Me'.
Date & Time
Location
Description
Saturday
21 September 2019
7:00 PM
Axiata Arena, Bukit Jalil

Ticket Launch Date: 23 August 2019 (Friday)
Ticket Launch Time: 10:00AM

Ticket Prices: VIP RM828, CAT 1 RM688, CAT 2 RM588, CAT 3 RM488, CAT 4 RM288 (ALL SEATED)

Ticketing Hotline: +603 9222 8811 (Ticket Charge)
or visit www.ticketcharge.com.my and www.airasiaredtix.com
Date & Time
Location
Description
Saturday
5 October 2019
7:00 PM
First State Super Theatre, ICC Sydney

Ticket Launch Date: 13 September 2019 (Friday)
Ticket Launch Time: 01:00PM

Ticket Prices: VIP AU$299, P1 AU$229, P2 AU $179, P3 AU$129, P4 AU$89

Tickets available at www.ticketek.com.au
Date & Time
Location
Description
Sunday
1 December 2019
6:00 PM
AsiaWorld-Expo, Hall 10

Click here for more info about rescheduled date and "ticket renewal" arrangement.

Ticket Prices (HKD): VIP $1988, CAT1 $1688, CAT2 $1188, CAT3 $888, CAT4 $488

Ticketing Hotline: 31 288 288 or log on to www.hkticketing.com

Tickets are now available from HK Ticketing's box offices located at the Hong Kong Convention and Exhibition Centre, The Hong Kong Academy for Performing Arts, HKAPA Béthanie Landmark Heritage Campus, AsiaWorld-Expo, Kowloonbay International Trade & Exhibition Centre, D · PARK and K11 Select, as well as Tom Lee Music Stores.
HK Ticketing applies a customer service fee to all tickets purchased via its network. This fee is additional to the face value of the ticket and is payable upon purchase of tickets.