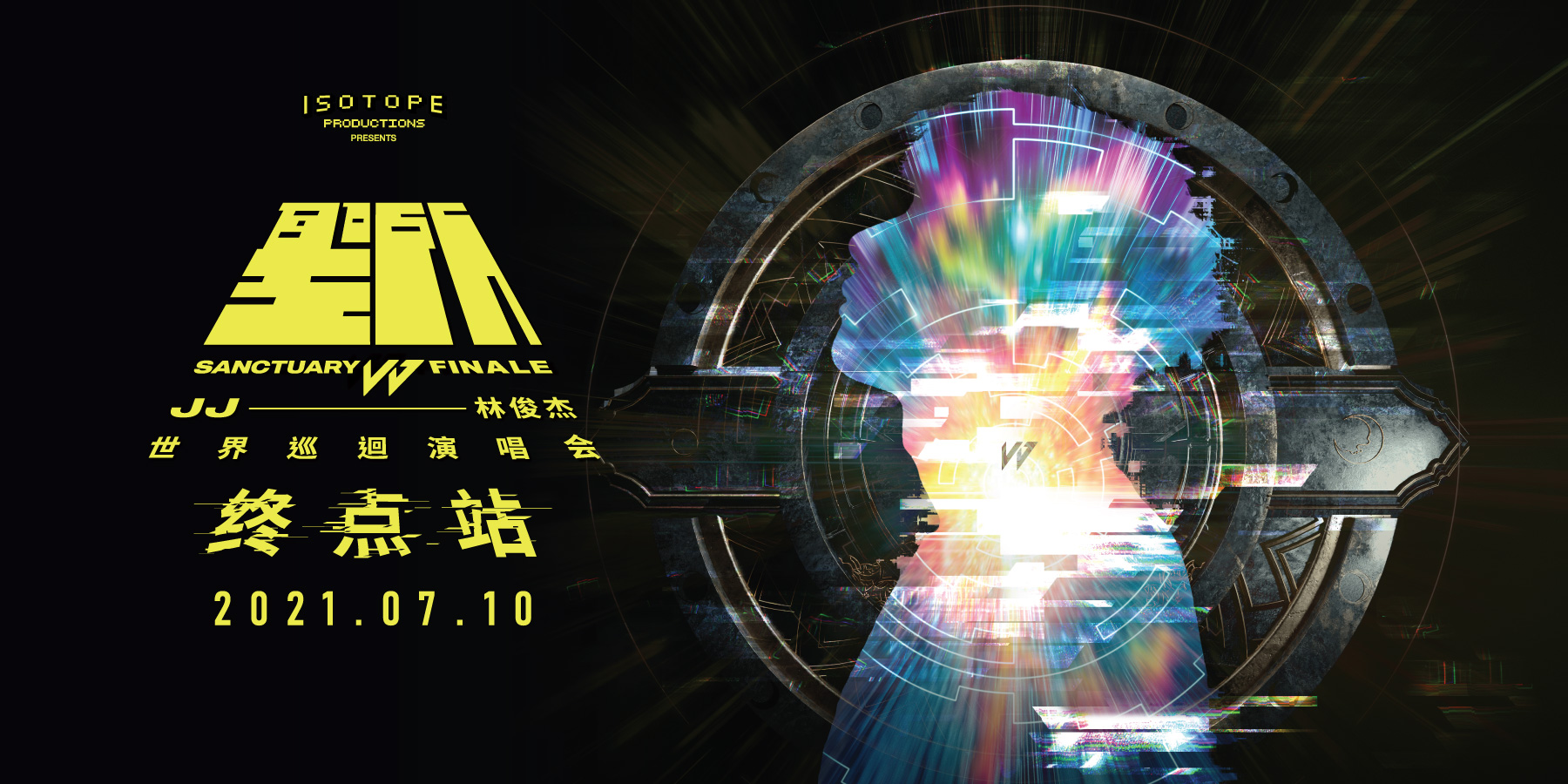 Concert Details
One of the best-selling concerts in Asia, JJ Lin "Sanctuary" World Tour has toured a total of 66 shows in 43 cities, amassing more than 1.6 million spectators to date. Kicking off in March 2018 and covering key indoor stadiums to major outdoor arenas around the world, this highly lauded concert by fans and critics alike will conclude in the much anticipated "JJ Lin「SANCTUARY FINALE」Virtual Concert" this summer, which will broadcast globally on 10 July 2021.
Fans familiar with the Sanctuary World Tour can look forward to reliving the exhilaration of being immersed in JJ's exceptional vocals and performance, albeit complete with the latest wardrobe, visual, music and choreography updates; whereas newcomers to the Sanctuary party can expect no less than world class showmanship in this larger-than-life show.
JJ Lin「SANCTUARY FINALE」Virtual Concert is proudly brought to you by Isotope Productions, a joint venture between JFJ Productions and UnUsUaL Limited.
JJ林俊傑《聖所》世界巡迴演唱會歷時兩年巡遍43個城市,共66場次,與160萬觀眾共創了屬於「聖所的人」獨有的美好。經過一年多的籌備與規劃,《聖所 FINALE》終點站終於來臨!此次盛典將不局限於距離、地點,就在這個夏天,首度敞開線上聖所,讓我們相約終點站 !JJ林俊傑《聖所 FINALE》終點站精華過往舞台的感動,升級技術與元素,邀請你7月10日與全球同步悸動!
每一場演唱會,皆藉由觀眾串聯台上與台下的情感,集結各種人生故事的投射,完整共同存在的能量。這次從內容、歌曲、音樂編排的重整到舞台設計、視覺創意等技術研討,以《聖所》的初心為出發,還原聖所XR舞台,將震撼的舞台與表演,毫無保留地再現。JJ與團隊致力於守護《聖所》現場的溫度,重拾撼動場館的熱度與一同吶喊的悸動,並顛覆以往,以全新的視覺造型,透過新穎卻不失情感的創新模式把全球歌迷凝聚在一起,為的就是打造一場專屬於同步線上觀賞的獨特體驗,挑戰觀眾對線上演唱會的既定印象,前所未有的互動形式,讓每一個你都能身臨其境,與JJ緊緊相扣。
【JJ林俊傑《聖所 FINALE》終點站 線上演唱會】是由 JFJ Productions及UnUsUaL Limited 旗下的Isotope Productions Pte. Ltd帶給您。
Date & Time
Location
Description
Saturday
10 July 2021
8:00 PM
SISTIC Live Stream

Tickets on sale: 10 June, 12PM (GMT +8)

Ticket Price: SGD38*, SGD48*, SGD68*, SGD188* (*excludes SGD3-4 booking fee)

Ticket Link: www.sistic.com.sg/events/sljjlin0621

Price Details
Time Traveller bundle: SGD38/USD28
(i) Ticket
(ii) Finale Passport

Luminous Time Traveller bundle: SGD48/USD38
(i) Ticket
(ii) Finale Passport
(iii) Interactive Luminous Wristband

Resurgent Time Traveller bundle: SGD68/USD58
(i) Ticket
(ii) Finale Passport
(iii) Interactive Luminous Wristband
(iv) Sanctuary Tapestry Fabric Poster
*Limited Edition

Sanctuary Complete Time Traveller bundle: SGD188/USD148
(i) Ticket
(ii) Finale Passport
(iii) Interactive Luminous Wristband
(iv) Sanctuary Tapestry Fabric Poster
(v) Sanctuary Pictorial Box Set
(vi) Sanctuary Eco Tote Bag
*Special Edition (in limited quantities)

Note: Due to the outbreak of COVID-19, delivery services to many destinations may be delayed or failed, subject to the local laws, regulations and policies. By purchasing, you acknowledge and agree that no guarantee of delivery and no compensation will be provided under the aforementioned conditions.

標準時空旅人: SGD38/USD28
(i) 門票
(ii) 終點站 時空通行證

光芒時空旅人套裝: SGD48/USD38
(i) 門票
(ii) 終點站 時空通行證
(iii) 互動光芒手環

進階時空旅人套裝 : SGD68/USD58
(i) 門票
(ii) 終點站 時空通行證 
(iii) 互動光芒手環
(iv) 聖所掛上掛布海報
*限量套裝

頂級時空旅人套裝: SGD188/USD148
(i) 門票
(ii) 終點站 時空通行證
(iii) 互動光芒手環
(iv) 聖所掛上掛布海報
(v) 聖所寫真卡片組
(vi) 聖所裝進帆布袋
*極限量套裝

備註: 基於COVID -19疫情,寄送物流程序可能會因為目的地的當地法律、法規和政策而遲誤、無法送到。您瞭解並同意,任何保證和賠償均不會適用於上述情形。
Date & Time
Location
Description
Saturday
10 July 2021
8:00 PM
Online Event

Tickets on sale: 10 June, 12PM (GMT +8)

Ticket Price: SGD38*, SGD48*, SGD68*, SGD188* (*excludes SGD3-4 booking fee)

Ticket Link: sg.bookmyshow.com/o/JJSFVC12

Price Details
Time Traveller bundle: SGD38/USD28
(i) Ticket
(ii) Finale Passport

Luminous Time Traveller bundle: SGD48/USD38
(i) Ticket
(ii) Finale Passport
(iii) Interactive Luminous Wristband

Resurgent Time Traveller bundle: SGD68/USD58
(i) Ticket
(ii) Finale Passport
(iii) Interactive Luminous Wristband
(iv) Sanctuary Tapestry Fabric Poster
*Limited Edition

Sanctuary Complete Time Traveller bundle: SGD188/USD148
(i) Ticket
(ii) Finale Passport
(iii) Interactive Luminous Wristband
(iv) Sanctuary Tapestry Fabric Poster
(v) Sanctuary Pictorial Box Set
(vi) Sanctuary Eco Tote Bag
*Special Edition (in limited quantities)

Note: Due to the outbreak of COVID-19, delivery services to many destinations may be delayed or failed, subject to the local laws, regulations and policies. By purchasing, you acknowledge and agree that no guarantee of delivery and no compensation will be provided under the aforementioned conditions.

標準時空旅人: SGD38/USD28
(i) 門票
(ii) 終點站 時空通行證

光芒時空旅人套裝: SGD48/USD38
(i) 門票
(ii) 終點站 時空通行證
(iii) 互動光芒手環

進階時空旅人套裝 : SGD68/USD58
(i) 門票
(ii) 終點站 時空通行證 
(iii) 互動光芒手環
(iv) 聖所掛上掛布海報
*限量套裝

頂級時空旅人套裝: SGD188/USD148
(i) 門票
(ii) 終點站 時空通行證
(iii) 互動光芒手環
(iv) 聖所掛上掛布海報
(v) 聖所寫真卡片組
(vi) 聖所裝進帆布袋
*極限量套裝

備註: 基於COVID -19疫情,寄送物流程序可能會因為目的地的當地法律、法規和政策而遲誤、無法送到。您瞭解並同意,任何保證和賠償均不會適用於上述情形。