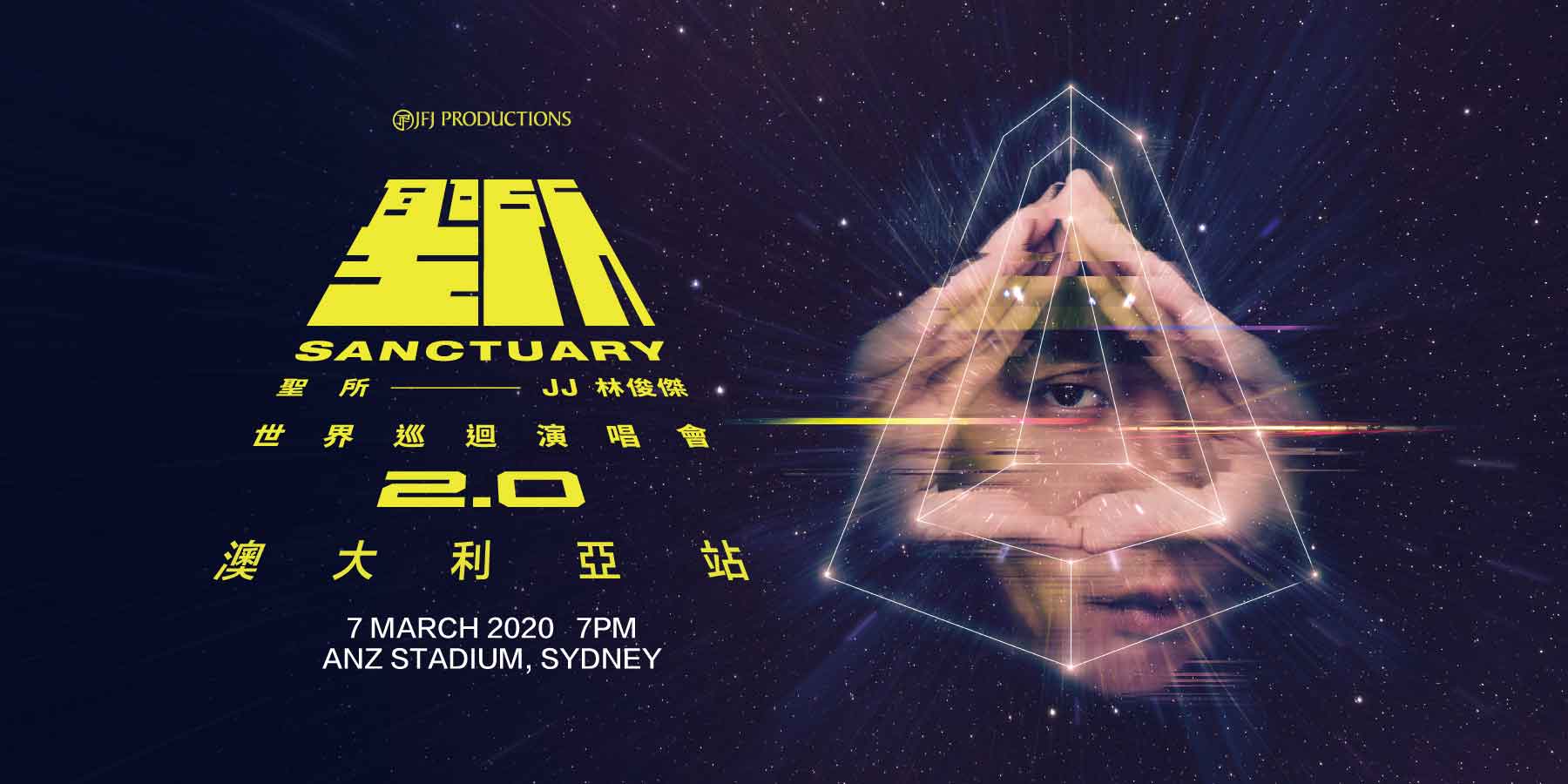 Concert Details
JJ Lin Sanctuary 2.0 World Tour at ANZ Stadium Sydney to be postponed
Unusual Entertainment, together with TEG Live and Chinatown Cinema Corporation, the promoters of JJ Lin Sanctuary 2.0 World Tour in Sydney, regret to advise, due to the escalation of Novel Coronavirus and associated travel bans, the Sydney show scheduled for March 7 at ANZ Stadium will be postponed until further notice. The promoters are working with the artiste management to secure a new tour period and aim to provide updates as soon as possible.
All purchased tickets will receive full refunds. Refunds will be made through the following channels,
1. Tickets purchased by credit or debit card will be refunded in full (including ticket insurance premium, if relevant) and patrons need not take any action. Patrons should allow up to 15 working days for the refunds to appear in their account.
If your credit or debit card has been permanently closed/cancelled, please supply us with updated details here in order to process your refund.
2. Patrons who purchased tickets in an Agency using cash or EFTPOS will be contacted via phone in the next 15 working days to arrange for a full refund. Alternatively, you can contact Ticketek here
We sincerely apologise for any inconvenience caused and thank you for your understanding.
JJ林俊杰《圣所 2.0》 世界巡回演唱会澳大利亚站将延期
因新型冠状病毒疫情扩散的影响以及相关旅游限制,主办单位 Unusual Entertainment飛凡娱乐联同 TEG Live以及 Chinatown Cinema Corporation 萧氏机构,正式宣布,JJ林俊杰《圣所 2.0》世界巡回演唱会 2020 年3 月7日澳大利亚站,悉尼 ANZ Stadium 的演出将延期。主办单位目前正在与经纪公司协调新的演出日期,一旦有最新消息会再尽快公布。
所有门票将全额退款,退款将通过以下方式进行:
1. 以信用卡或借记卡购票的消费者将在 15 个工作日内收到退款,包括票务保险费(若有选购)。退款将自动汇入购票时所用的信用卡,您无需采取任何行动。
如果您已停止使用该信用卡或借记卡,请通过此网站更新您的资料以便处理您的退款。
2. 通过售票处以现金或 EFTPOS 付款的消费者将在 15 个工作日内接获电话通知,安排退款。您也可以通过此网站与 Ticketek 联络。
对此所造成的不便之处,我们深感抱歉并感谢您的谅解。
After sold out shows in both Sydney and Melbourne in 2019, JJ Lin is bringing his JJ Lin Sanctuary 2.0 World Tour to Sydney's ANZ Stadium for a one-off Australian performance on Saturday 7 March 2020.
Dubbed one of Mandopop' top acts and Singapore's greatest music export, JJ Lin Sanctuary 2.0 World Tour is bigger and bolder than before!
Building on the initial tour, the upgraded JJ Lin Sanctuary 2.0 World Tour is designed for seated outdoor stadiums. This one night only extravaganza will include exciting new elements: a moving extension stage bridge bringing JJ Lin closer to fans, intricate interplay of stunning lighting and visual effects, and specially designed costumes to heighten the overall show experience.
JJ Lin will perform his well-loved hits such as, Twilight, Those Were The Days, Little Big Us, If Only and Practice Love.
继2019年初轰动全澳、两场一票难求的林俊杰《圣所》世界巡回演唱会之后,2020年3月7日,他将带着升级版《圣所2.0》重返澳洲,于悉尼ANZ Stadium火热开唱!
华语乐坛的顶级音乐人,新加坡国宝级歌手JJ林俊杰此次《圣所2.0》世界巡回演唱会将为歌迷们呈现一个规模更宏伟,更大胆的表演!
全面升级版的《圣所2.0》世界巡回演唱会令人兴奋的新元素包括一个可移动的伸展台、让林俊杰与粉丝能有更近距离的互动。令人惊叹的灯光及舞台视觉效果、以及精心设计,让人目眩的舞台服装势必将大大提升粉丝们的现场体验。
演唱会曲目将包括林俊杰脍炙人口的热门金曲如《不为谁而做的歌》、《那些你很冒险的梦》、《伟大的渺小》、《可惜没如果》、《修炼爱情》等。
Date & Time
Location
Description
Saturday
7 March 2020
7:00 PM
ANZ Stadium, Sydney

General public on-sale: 20 November 2019 (Wed), 12.00pm (Sydney Time) .

Ticket Price: AU$98*, AU$198*, AU$298*, AU$398*, AU$498* (including GST)

Ticketing website: https://premier.ticketek.com.au