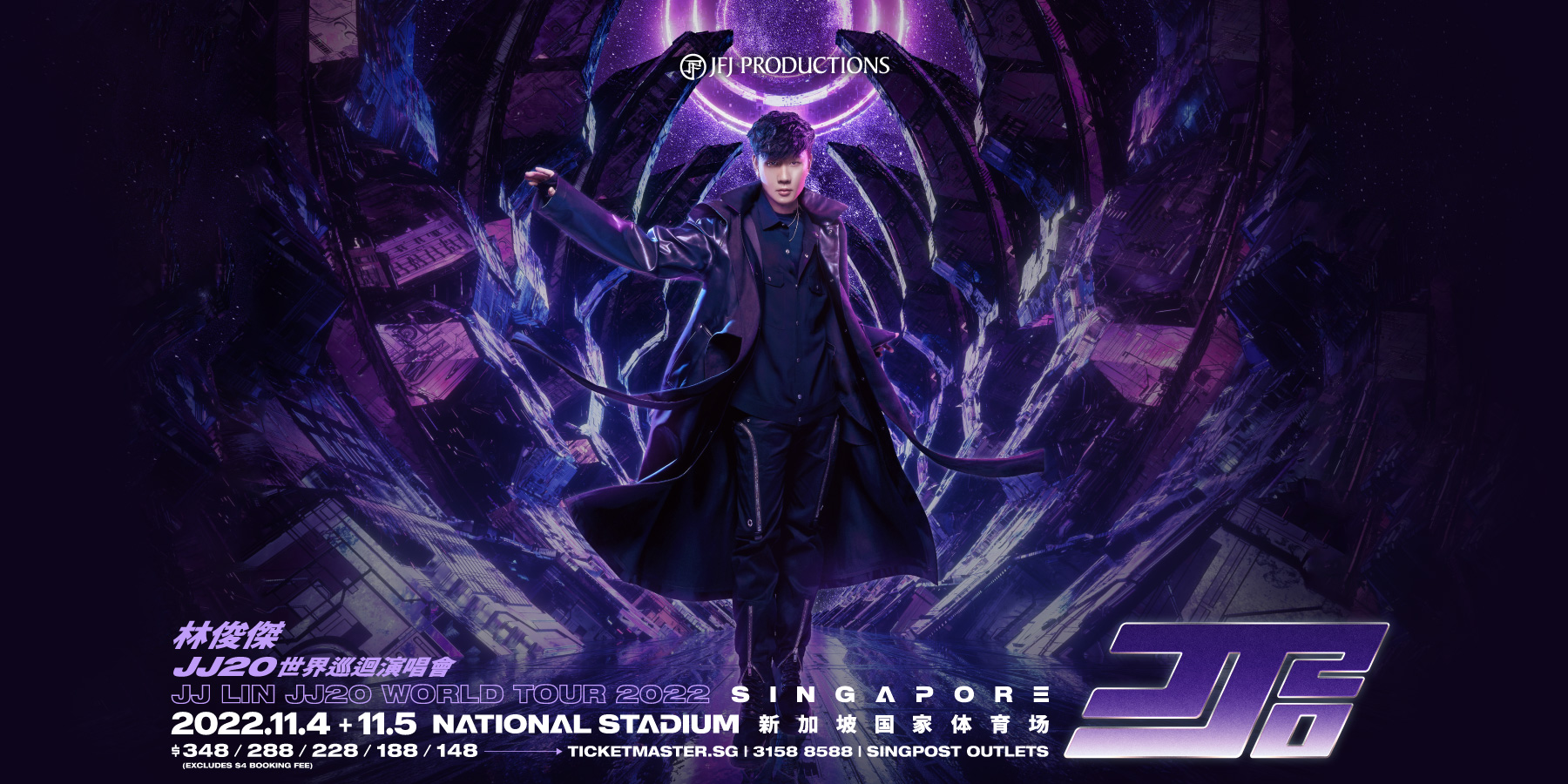 Concert Details
In celebration of his 20th anniversary, multi-hyphenate JJ Lin will embark on a brand new concert <JJ Lin "JJ20" World Tour> which will kick start from his very own playground, Singapore, over two nights at the iconic National Stadium.
Dubbed Singapore's greatest music export and one of Mandopop's top acts, JJ Lin has, in a career spanning two decades, released 14 studio albums, produced over 30 singles and countless music collaborations. With the technological progress from cassette tapes to CDs and the digital downloads of now, JJ's music has been the soundtrack of the lives of many. It has seen them through tears and heartbreaks, uplifting them in their happiest moments, always a unifying force of positivity and a beacon of light in this journey called life.
After a three-year break, JJ Lin is back with <JJ Lin "JJ20" World Tour>, a highly anticipated performance that will not only celebrate his 20 years in music but is also a testament to his music legacy and a gift to his fans. Be prepared to be dazzled on November 4 and 5 as JJ Lin presents JJ2.0 to the world!
Priority Booking* for official card partner Mastercard® cardholders will commence from 10:00am to 11:59pm on 28 July. Mastercard will donate S$2 to The Straits Times School Pocket Money Fund for every ticket purchased with a Mastercard.
*Payment must be made with a Singapore-issued Mastercard.
*Mastercard does not assume any responsibility for the products and services offered under this Event. The products are sold and services are provided solely by the relevant vendors, under such terms and conditions as determined by such vendors, and Mastercard accepts no liability whatsoever in connection with such products and services. The products and services have not been certified by Mastercard and under no circumstances shall the inclusion of any product or service in this Event be construed as an endorsement or recommendation of such product or service by Mastercard.
迈向出道20 周年的里程碑, 亚洲全能唱作天王JJ 林俊杰将一连两晚,再次登上新加坡国家体育场的舞台呈现《JJ林俊杰JJ20 世界巡回演唱会》,为睽违3 年的全新巡演掀开序幕!
被誉为新加坡的骄傲,也是华人乐坛最顶级艺人之一的JJ 林俊杰出道至今即将步入 20 年,发行了 14 张专辑,超过 30 首单曲与无数合作歌曲。随着科技的发展,这些音乐与青春一起从卡带到 CD 再汇入数位音乐,陪着许许多多的歌迷们走过生活中的起起落落,也共同见证了彼此的成长。JJ 的音乐不仅是一代人的集体回忆、最美好的无限延伸,总能将心灵破碎的拼凑完整。
这些年来,JJ 林俊杰站上超过百场演唱会舞台。每场都是多少眼泪的汇集地,又是多少情感的交集,有无数灵魂在这发光,也有无限感动在此发酵,是多少观众的声音一起将故事写成了我们,成就了林俊杰。
20 年岁月,JJ 林俊杰不曾离开。这次不止是 "JJ20" 也是 "JJ2.0"。睽违 3 年的全新巡回演唱会,万众期待,而 JJ 也准备好了再次归向舞台,迎接崭新的 JJ 时代!
官方指定信用卡万事达卡TM 持卡人可从 7 月28日早上 10 点至晚上 11 点59 分享有优先购票权*。凡使用万事达卡购买的每一张门票,海峡时报学校零用钱基金将收益由万事达卡资助的新币2元捐款。
*須以新加坡发行的万事达卡支付全额票价
*万事达卡不对本活动向下的产品或服务承担责任。有关产品或服务均由相关供应商根据其自行确定的条款和条件出售或提供, 万事达卡不承担与该等产品或服务相关的任何责任。万事达卡未对该等产品或服务进行认证,将该等产品或服务纳入活动也不构成万事达卡对于任何该等产品或服务的认可或推荐。
Date & Time
Location
Description
Friday
4 November 2022
7:00 PM
National Stadium

Mastercard Priority Booking: 28 July 2022 (Thu), 10am - 11:59pm

Tickets On Sale: 29 July 2022 (Fri), 6pm

Ticket Price: $348, $288, $228, $188, $148 (*excludes $4 booking fee)

Ticketing Hotline: +65 3158 8588 or log onto www.ticketmaster.sg

Tickets also available at all Singpost outlets islandwide