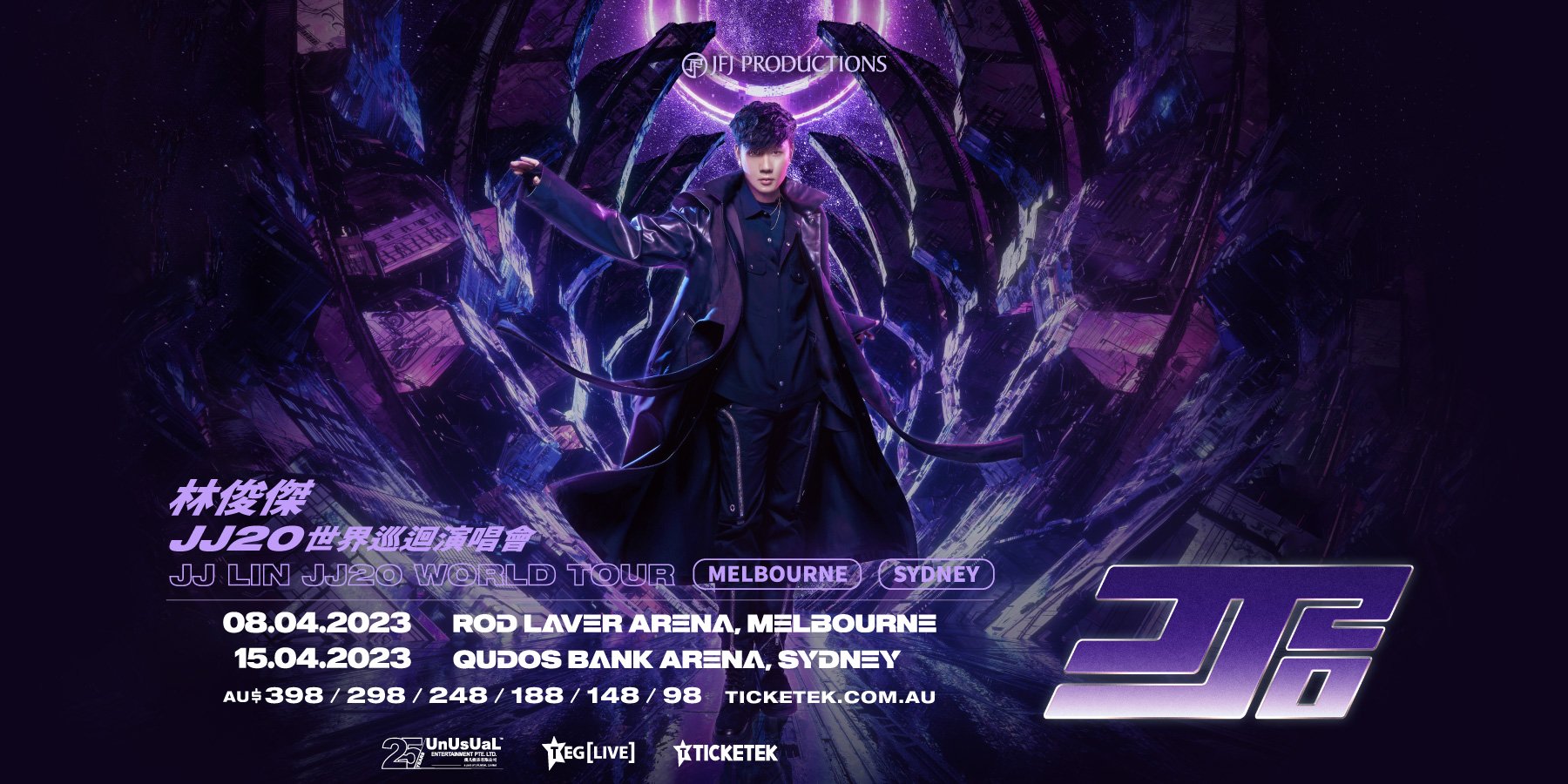 Concert Details
After a three year break, Asian superstar JJ Lin is back to bring his highly anticipated 《JJ Lin JJ20 World Tour》 to Melbourne and Sydney in April 2023.
As one of Asia's most renowned and successful artists, JJ Lin has released 14 studio albums, produced more than 30 singles and amassed over an incredible 120 billion streams worldwide.
A testament to his music legacy and gift to all fans he has connected with across his journey, 《JJ Lin JJ20 World Tour》 celebrates JJ Lin's illustrious 20 year career since his debut album 'Music Voyager'.
Enthralling record sell out audiences across the globe, get ready to experience JJ Lin's most personal and popular hits spanning his discography as the 《JJ Lin JJ20 World Tour》 comes to Rod Laver Arena in Melbourne on April 8 2023 and Qudos Bank Arena in Sydney on April 15 2023.
时隔三年,亚洲巨星JJ林俊杰再度回归,并将于2023年4月在墨尔本和悉尼举办备受期待的《JJ 林俊杰 "JJ20" 世界巡回演唱会》。
被誉为全亚洲巨星之一,JJ林俊杰发行了 14 张专辑,制作了 30 多首单曲,并在全球积累了超过 1200 亿的播放流量。
《JJ 林俊杰 "JJ20" 世界巡回演唱会》是JJ林俊杰自首张专辑《乐行者》发行以来20 年杰出成绩的证明,也是送给他所有歌迷的礼物。
准备好现场体验JJ林俊杰最迷人的歌声和最受欢迎的热门单曲吧!《JJ 林俊杰 "JJ20" 世界巡回演唱会》将于 2023 年 4 月 8 日在墨尔本Rod Laver Arena以及 2023 年 4 月15日在悉尼 Qudos Bank Arena举办。
Date & Time
Location
Description
Saturday
8 April 2023
7:30 PM
Rod Laver Arena, Melbourne, VIC

Tickets On Sale: 13 December 2022 (Tue),

12pm (AEDT)

Ticket Price: AU$398, AU$298, AU$248, AU$188, AU$148, AU$98

Ticketing: www.ticketek.com.au
Date & Time
Location
Description
Saturday
15 April 2023
7:30 PM
Qudos Bank Arena, Sydney, NSW

Tickets On Sale: 13 December 2022 (Tue),

12pm (AEDT)

Ticket Price: AU$398, AU$298, AU$248, AU$188, AU$148, AU$98

Ticketing: www.ticketek.com.au