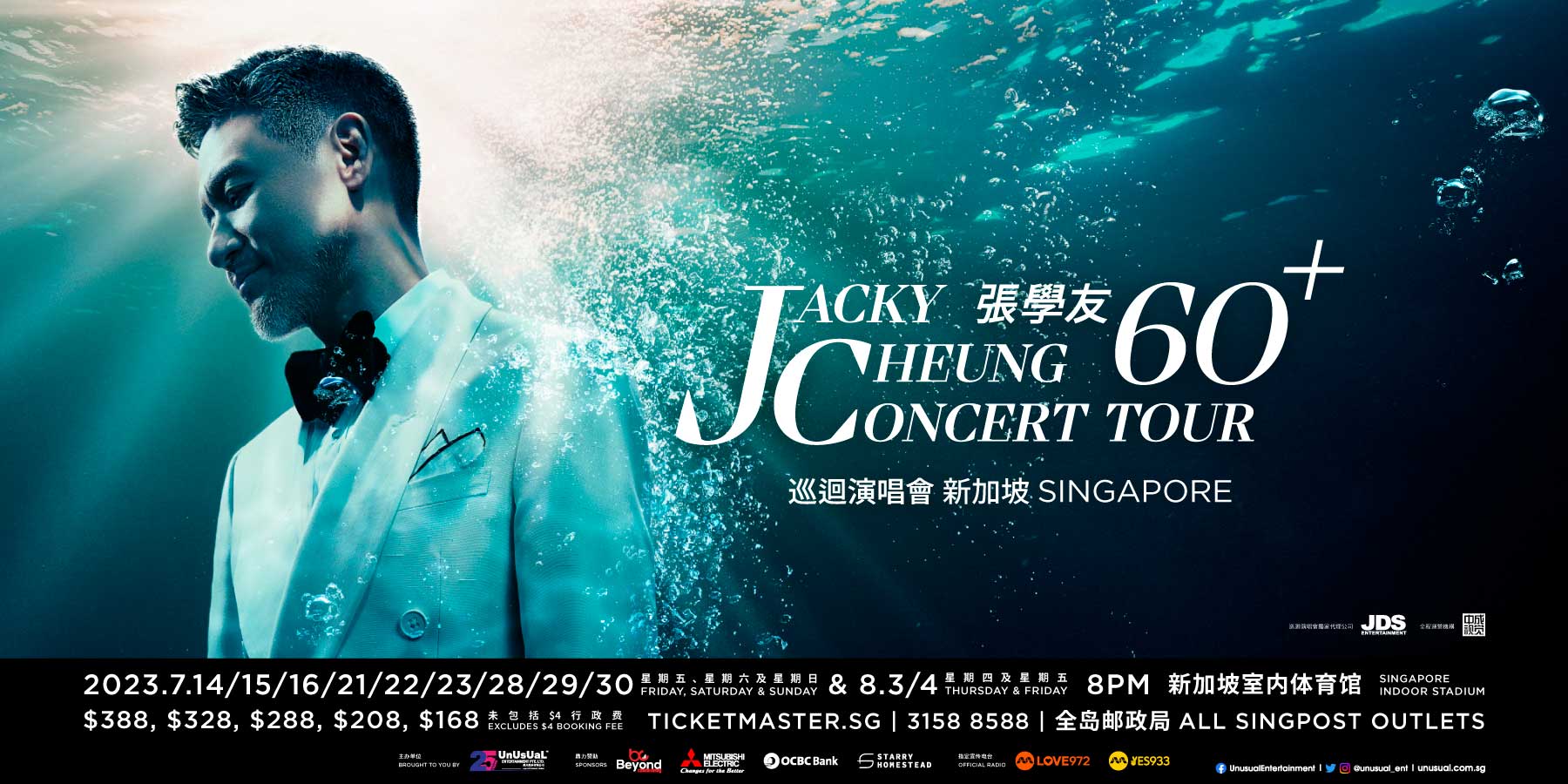 Concert Details
Thank you for the support! All 11 shows of "Jacky Cheung 60+ Concert Tour" Singapore are now sold out.
衷心感谢歌支持!11 场《张学友60+巡回演唱会》新加坡已全数爆满。
Jacky Cheung has announced his brand-new world tour "Jacky Cheung 60+ Concert Tour" which will kick off in Macao this June. Singapore is the second stop on the tour and he is set to perform six nights at the Singapore Indoor Stadium over two weekends in July!
Since "Jacky Cheung 87 Concert", Jacky has continuously broken his own records. In 1995, he held 100 shows of "Jacky Cheung '95 Live Concert". In 2007, he performed 105 shows of "The Year of Jacky Cheung". In 2010, "Jacky Cheung ½ Century Tour" sang 147 nights and in 2016, "Jacky Cheung A Classic Tour" performed an astonishing 233 shows. However, breaking records was never his intent for doing concerts, he says, "I try my best at every performance, and with each performance, I gain a little more. I am grateful and hearten by the immense support everyone has shown me." Jacky makes it a point to try something new with every performance, and his perseverance and pursuit of perfection has made him synonymous with excellence in the Chinese music industry.
This July, catch everyone's favourite singer, the God of Songs, Jacky Cheung in the highly anticipated "Jacky Cheung 60+ Concert Tour"!
张学友正式启动全新巡演 《张学友 60+ 巡回演唱会》,今年 6 月于澳门掀开序幕。新加坡是巡演第二站,而张学友将破天荒六场演出双周末唱响新加坡室内体育馆!
从《张学友87'演唱会》开始,张学友一次又一次创下演唱会新纪录,1995 年《友学友演唱会》100 场、2007 年《学友光年演唱会》105 场、2010 年《张学友1/2世纪演唱会》147 场、2016 年《A Classic Tour 学友.经典演唱会》233 场,但破纪录从来不是张学友做演唱会追求的目标,他说: "尽力做好每一场表演,每多做一场就代表有更多一点的支持,再一次感谢大家对我的眷顾。" 而张学友每次演出都会尝试不同的表现形式,不畏困难的毅力与追求完美的精神,让张学友成为华语乐坛独特的品质指标。
来临 7 月,一起目睹这场引颈期盼,大家最爱的歌神张学友的第十次全新个人演唱会 !
Date & Time
Location
Description
Friday
14 July 2023
8:00 PM
Singapore Indoor Stadium

*SOLD OUT*

Tickets On Sale: 26 April 2023 (Wed), 10am

Ticket price: $388, $328, $288, $208, $168 (excludes $4 booking fee)

Ticketing Hotline: +65 3158 8588 or log onto www.ticketmaster.sg

Tickets also available at all SingPost outlets islandwide
Date & Time
Location
Description
Saturday
15 July 2023
8:00 PM
Singapore Indoor Stadium

*SOLD OUT*

Tickets On Sale: 26 April 2023 (Wed), 10am

Ticket price: $388, $328, $288, $208, $168 (excludes $4 booking fee)

Ticketing Hotline: +65 3158 8588 or log onto www.ticketmaster.sg

Tickets also available at all SingPost outlets islandwide
Date & Time
Location
Description
Sunday
16 July 2023
8:00 PM
Singapore Indoor Stadium

*SOLD OUT*

Tickets On Sale: 26 April 2023 (Wed), 10am

Ticket price: $388, $328, $288, $208, $168 (excludes $4 booking fee)

Ticketing Hotline: +65 3158 8588 or log onto www.ticketmaster.sg

Tickets also available at all SingPost outlets islandwide
Date & Time
Location
Description
Friday
21 July 2023
8:00 PM
Singapore Indoor Stadium

*SOLD OUT*

Tickets On Sale: 26 April 2023 (Wed), 10am

Ticket price: $388, $328, $288, $208, $168 (excludes $4 booking fee)

Ticketing Hotline: +65 3158 8588 or log onto www.ticketmaster.sg

Tickets also available at all SingPost outlets islandwide
Date & Time
Location
Description
Saturday
22 July 2023
8:00 PM
Singapore Indoor Stadium

*SOLD OUT*

Tickets On Sale: 26 April 2023 (Wed), 10am

Ticket price: $388, $328, $288, $208, $168 (excludes $4 booking fee)

Ticketing Hotline: +65 3158 8588 or log onto www.ticketmaster.sg

Tickets also available at all SingPost outlets islandwide
Date & Time
Location
Description
Sunday
23 July 2023
8:00 PM
Singapore Indoor Stadium

*SOLD OUT*

Tickets On Sale: 26 April 2023 (Wed), 10am

Ticket price: $388, $328, $288, $208, $168 (excludes $4 booking fee)

Ticketing Hotline: +65 3158 8588 or log onto www.ticketmaster.sg

Tickets also available at all SingPost outlets islandwide
Date & Time
Location
Description
Friday
28 July 2023
8:00 PM
Singapore Indoor Stadium

*SOLD OUT*

Tickets On Sale: 3 May 2023 (Wed), 12pm

Ticket price: $388, $328, $288, $208, $168 (excludes $4 booking fee)

Ticketing Hotline: +65 3158 8588 or log onto www.ticketmaster.sg

Tickets also available at all SingPost outlets islandwide
Date & Time
Location
Description
Saturday
29 July 2023
8:00 PM
Singapore Indoor Stadium

*SOLD OUT*

Tickets On Sale: 3 May 2023 (Wed), 12pm

Ticket price: $388, $328, $288, $208, $168 (excludes $4 booking fee)

Ticketing Hotline: +65 3158 8588 or log onto www.ticketmaster.sg

Tickets also available at all SingPost outlets islandwide
Date & Time
Location
Description
Sunday
30 July 2023
8:00 PM
Singapore Indoor Stadium

*SOLD OUT*

Tickets On Sale: 3 May 2023 (Wed), 12pm

Ticket price: $388, $328, $288, $208, $168 (excludes $4 booking fee)

Ticketing Hotline: +65 3158 8588 or log onto www.ticketmaster.sg

Tickets also available at all SingPost outlets islandwide
Date & Time
Location
Description
Thursday
3 August 2023
8:00 PM
Singapore Indoor Stadium

*SOLD OUT*

Tickets On Sale: 30 June 2023 (Fri), 10am

Ticket price: $388, $328, $288, $208, $168 (excludes $4 booking fee)

Ticketing Hotline: +65 3158 8588 or log onto www.ticketmaster.sg

Tickets also available at all SingPost outlets islandwide
Date & Time
Location
Description
Friday
4 August 2023
8:00 PM
Singapore Indoor Stadium

*SOLD OUT*

Tickets On Sale: 30 June 2023 (Fri), 10am

Ticket price: $388, $328, $288, $208, $168 (excludes $4 booking fee)

Ticketing Hotline: +65 3158 8588 or log onto www.ticketmaster.sg

Tickets also available at all SingPost outlets islandwide