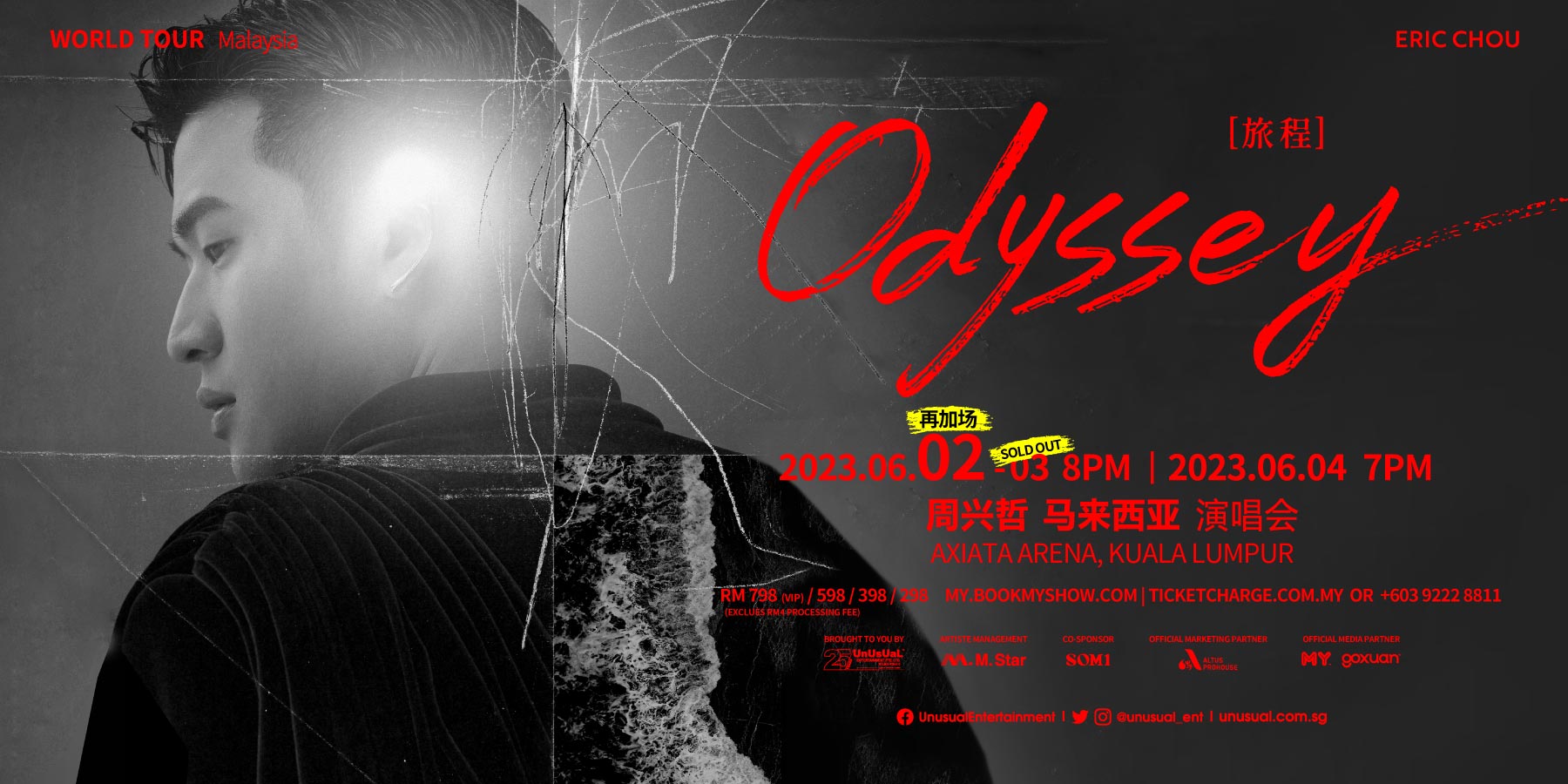 Concert Details
The Long-awaited Eric Chou [Odyssey ~ Journey] World Tour is coming to Malaysia this June!
After much anticipation, Taiwanese Mandopop's "King of the Lovelorn People, Eric Chou, is bringing his long-awaited tour, The Odyssey ~Journey World Tour to Malaysia at Axiata Arena, Kuala Lumpur on 03 June 2023.
"The Odyssey Journey" title of the tour comes from Greek mythology, which signifies that every hero must go through thousands of trials to become a true hero. Eric says emotionally: "Everyone is trying very hard to be a better person, and it's because of you, my dear fans, the journey of my journey continues, that I'm working hard with."
Eric's "Odyssey ~Journey" has been sold out every stop of the way. From the first concert in Singapore to Taiwan, Las Vegas in the United States of America, Vancouver in Canada, and the two concerts that were held at the Hong Kong Coliseum last weekend, tickets were in high demand. Including his first ever fan meet in Thailand where it was a box office success. It is no doubt that Eric is beloved and well known as the prince of contemporary heartthrob love songs.
Good News! The Special VIP package offers two events for just one price: "Eric Chou Fan Meeting" and a concert of "Eric Chou Odyssey ~ Journey".
All VIP ticket holders will be able to attend this closed-door fan meeting before the concert date. The seats for the fan meeting will be randomly assigned by the system. The date and venue of the event will be announced at a later date.
Only Starics will be entitled such unprecedented, unique promotion. Do you want an up-close interaction with Eric Chou? Do you wish to watch Eric's LIVE performance in advance before the concert, then don't miss it! Grab the limited VIP ticket on March 02!
Eric Chou 'Odyssey Journey' is proudly brought to you by UnusuaL Entertainment.
备受期待的 Eric 周兴哲《Odyssey~旅程》世界巡回演 唱会将於今年六月进军大马开唱!
被誉为台湾华语流行音乐的"情歌王子"周兴哲终于在千呼万唤下于今年6 月03 日带着他备受期待的 《Odyssey~旅程》世界巡回演唱会,在吉隆坡 Axiatra Arena 和他心爱的小兴星们见面。
此次巡演"Odyssey"的名称来自希腊神话,寓意每一个英雄都要经历成千上万的考验才能成为真正的英 雄。周兴哲感叹道,"每个人都在努力成为一个更好的人,因为有你们,我亲爱的粉丝们,我的旅程还 在继续,我和你们一起努力。"
Eric 周兴哲《Odyssey~旅程》所到之处,演唱会场场爆满。从第一站新加坡到台湾,美国拉斯维加斯, 加拿大温哥华,以及刚于上周末在香港红磡体育馆的两场演唱会都秒杀,一票难求。甚至是首次到泰国 举办售票粉丝会都票房报捷,深受欢迎。真不愧是当代的万人迷情歌王子。
好消息!这次的特别VIP套票, 只需一个价格,就有能够参加 2 场活动:一场"Eric"The Moment"粉丝见面会"和一场周兴哲《Odyssey~旅程》演唱会。 所有VIP门票持有者都能在演唱会前,出席这场闭门粉丝见面会。粉丝会的座位将由系统随机分配。活动日期和场地将在稍后公布。 这个前所未有,独一无二的好康,只有小兴星们才有。想不想更靠近 Eric 做近距离的互动,想不想提前看到Eric的现场演唱,那就千萬不要錯過哦!3月 2日努力抢票吧!
这个前所未有,独一无二的好康,只有小兴们才有。想不想更靠近 Eric 做近距离的互动,想 不想提前看到Eric 的现场演唱,那就千萬不要錯過哦!3 月 2 日努力抢票吧!
Date & Time
Location
Description
Friday
2 June 2023
8:00 PM
Axiata Arena Bukit Jalil, Kuala Lumpur

Ticket on sale: 7 March 2023 (Tue), 2pm


Ticket Price: RM798 (VIP), RM598, RM398, RM298
(excludes RM4 processing fee)

Ticketing Hotline: +603-9212 4202 or log onto my.bookmyshow.com
Date & Time
Location
Description
Saturday
3 June 2023
8:00 PM
Axiata Arena Bukit Jalil, Kuala Lumpur

*SOLD OUT*

Ticket Price: RM798 (VIP), RM598, RM398, RM298
(excludes RM4 processing fee)

Ticketing Hotline: +60 3-9222 8811 or log onto premier.ticketcharge.com.my
Date & Time
Location
Description
Sunday
4 June 2023
7:00 PM
Axiata Arena Bukit Jalil, Kuala Lumpur

Ticket Price: RM798 (VIP), RM598, RM398, RM298
(excludes RM4 processing fee)

Ticketing Hotline: +60 3-9222 8811 or log onto premier.ticketcharge.com.my