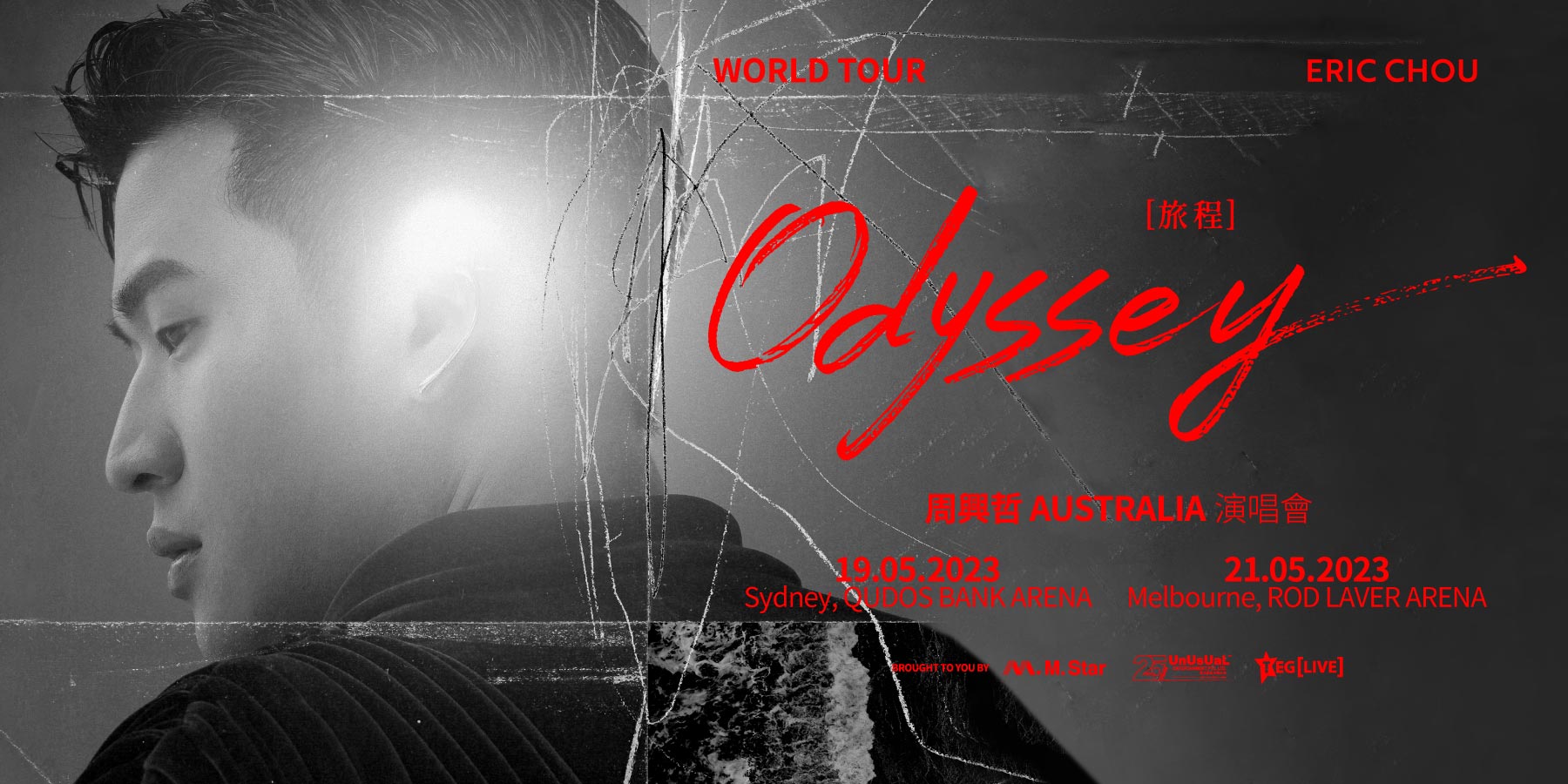 Concert Details
Join Taiwanese Mandopop's "King of the Lovelorn People", Eric Chou as he brings his highly anticipated ODYSSEY JOURNEY WORLD TOUR to Sydney and Melbourne this May.

The shows will be Eric's first ever Australian tour and his fans will be treated to a stunning sensory performance of sound, song, stage and togetherness.

The youngest singer/songwriter to break 100M viewership on YouTube, with his 4 hits –

"The Distance Of Love", "How Have You Been?", "The Chaos After You" and "What's Wrong", the shows will feature all his biggest hits as well as his latest tracks such as "Say Too Much" and "Graduation".

Beautifully turning emotions into love ballads that resonate with fans around the world, the ODYSSEY JOURNEY WORLD TOUR will bring Eric's performance to a new peak, showcasing his most visually dynamic performances.

Proudly presented by UnUsUaL Entertainment and TEG Live.
-------------------------------
台湾华语流行音乐"情歌王子"周兴哲将于今年五月带着他备受期待的

《Odyssey~旅程》世界巡回演唱会来到悉尼和墨尔本。

本次演唱会是周兴哲首次在澳大利亚的巡演,歌迷们将有机会看到 Eric 的现场演唱他的热门歌曲、以及精彩的舞台表演。

作为在 YouTube 上突破 1 亿收视率的最年轻的创作歌手,本次演唱会中周兴哲当然会演唱这4 首必唱曲《以后别做朋友》、《你,好不好?》、《如果雨之后》和《怎么了》以及他的最新曲目如《说太多》和《最后一堂课》。

将情感美妙地转化为能引起世界各地歌迷共鸣的情歌,《Odyssey~旅程》世界巡回演唱会将周兴哲的表演带到全新的高峰,展示周兴哲最具视觉震撼力的演出。

本场巡演由 UnUsUaL Entertainment 和 TEG Live 荣誉呈现。
Date & Time
Location
Description
Friday
19 May 2023
7:30 PM
Qudos Bank Arena, Sydney Olympic Park, NSW

Tickets will go on-sale TOMORROW Feb 21, 11am (Australia local time)
Date & Time
Location
Description
Sunday
21 May 2023
7:30 PM
Rod Laver Arena, Melbourne, VIC

Tickets will go on-sale TOMORROW Feb 21, 11am (Australia local time)