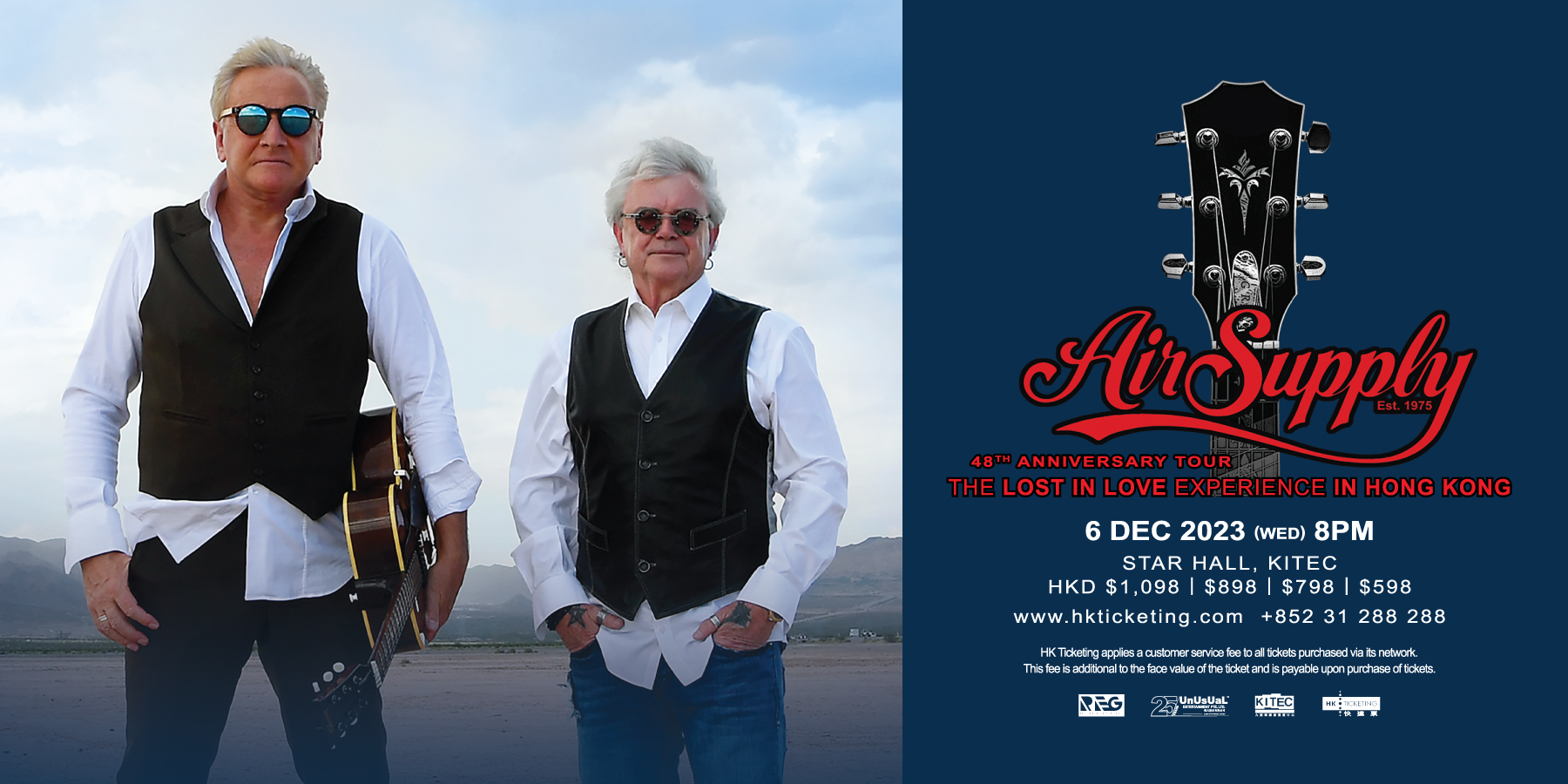 Concert Details
The legendary international pop rock hit-making duo, Air Supply is coming back to Hong Kong again for a live concert after 4 years. Brought to Hong Kong by Rolemodel Entertainment Group (REG) and UnUsUaL Entertainment Pte Ltd, the one night only performance Air Supply 48th Anniversary Tour THE LOST IN LOVE EXPERIENCE in Hong Kong will be held on 6th December 2023 at Star Hall, KITEC. Tickets priced at HKD $1,098, $898, $798 and $598 will go on public sale starting from 10am Tuesday, 12th September 2023 onwards via HK Ticketing's network.
Formed in 1975 with guitarist and singer-songwriter Graham Russell and lead vocalist Russell Hitchcock, Air Supply had a succession of hits worldwide including 'Lost in Love', 'Every Woman in the World', 'Even the Nights Are Better' and 'All Out of Love'. The albums Lost in Love, The One That You Love, Now & Forever, and The Greatest Hits sold in excess of 20 million copies with 'Lost in Love' as the Song of the Year in 1980. The trademark sound of Russell Hitchcock's soaring tenor voice and Graham Russell's simple yet majestic songs created a unique sound that would forever be known as Air Supply.
Air Supply released their 4th live album The Lost in Love Experience in 2019, and kicked off the same-titled world tour at USA, Canada, UK, Israel, Philippines, South Korea, Japan and other countries, through live performances, they captivated audiences all over the world. After 4 years since their Hong Kong concert in 2019, they are returning to Hong Kong with THE LOST IN LOVE EXPERIENCE tour in December and celebrate their 48th anniversary with fans. Fans should not miss this opportunity to capture their amazing live performance again.
Air Supply's official website: http://www.airsupplymusic.com
Date & Time
Location
Description
Wednesday
6 December 2023
8:00 PM
Star Hall, KITEC

Tickets On Sale: 12 September 2023 (Tue), 10am

Ticket price: HK$1098, $898, $798, $598 (all seated)

Ticketing Hotline: +852 31 288 288 or log onto www.hkticketing.com