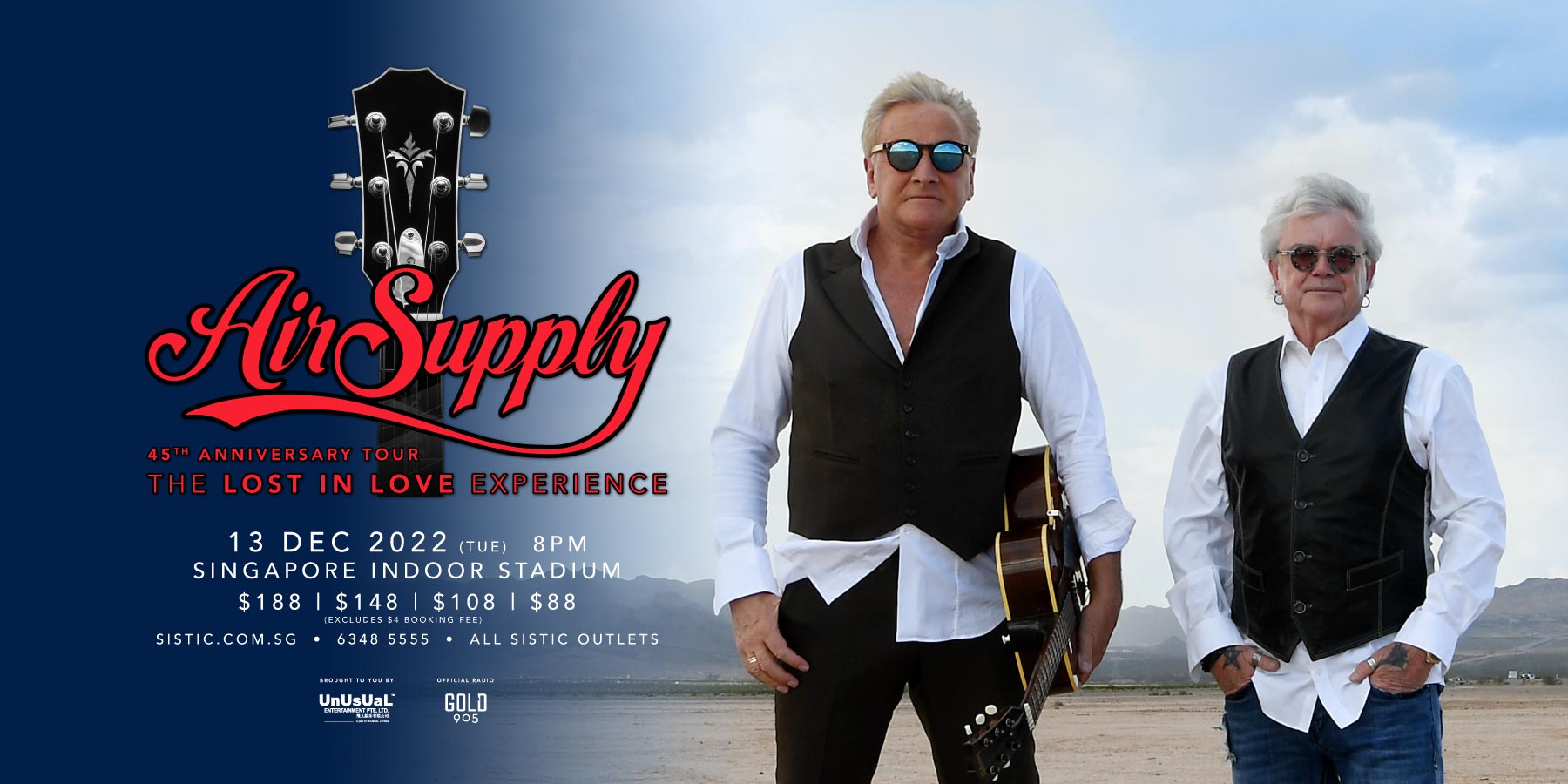 Concert Details
The classic hit-making duo, Air Supply, returns to our shores to celebrate its 45th anniversary.
Comprising the trademark sound of Russell Hitchcock's soaring tenor voice and Graham Russell's simple yet majestic songs, Air Supply has enjoyed a succession of hits worldwide. Their albums "Lost In Love", "The One That You Love", "Now & Forever" and "The Greatest Hits" has sold in excess of 20 million copies. Their singles have collectively sold more than 10 million copies worldwide and the hit ballad "Lost in Love" was named Song of the Year in 1980. "Making Love Out Of Nothing At All", released in 1983, solidified the group as a force to be reckoned with in the music industry. Along with "All Out Of Love", "The One That You Love" and "Sweet Dreams", Air Supply's songs have each achieved multi-million plays on radio and is still well-loved by many.

Attesting to their global popularity, Air Supply was the first Western group to tour China, Taiwan and countless other countries and cities which, previously, did not allow pop music into their borders. Breaking cultural and language barriers, the duo has brought their show to different parts of the world and charmed audiences with their captivating live performance. In 1988, Air Supply was asked to participate in Australia's bicentennial celebration and played for HRH Prince Charles and HRH Princess Diana, who were both already ardent fans. This engagement is one of the most treasured moments in their career. In 2005, Air Supply played to a 175,000 strong crowd in Cuba and the duo continues to play more than 150 shows a year.

Over the course of their 45-year career, the soft rock duo has garnered countless accolades and achievements both individually and as a group. In 2010, guitarist and singer-songwriter Graham Russell was honoured with a BMI (Broadcast Music Inc©) Million-Air Certificate, recognising three million performances of the duo's hit, "All Out of Love". In 2013, Air Supply was inducted into the Australian Recording Industry Association (ARIA)'s Hall of Fame.

This 13 December, sing along to all your favourite Air Supply hits and get lost in love with the singer and the song.
Date & Time
Location
Description
Tuesday
13 December 2022
8:00 PM
Singapore Indoor Stadium

Tickets On Sale: 12 September 2022 (Mon), 10am

Ticket Price: $188*, $148*, $108*, $88* (*excludes $4 booking fee)

Ticketing Hotline: +65 6348 5555 or log onto www.sistic.com.sg

Tickets also available at all SISTIC outlets.