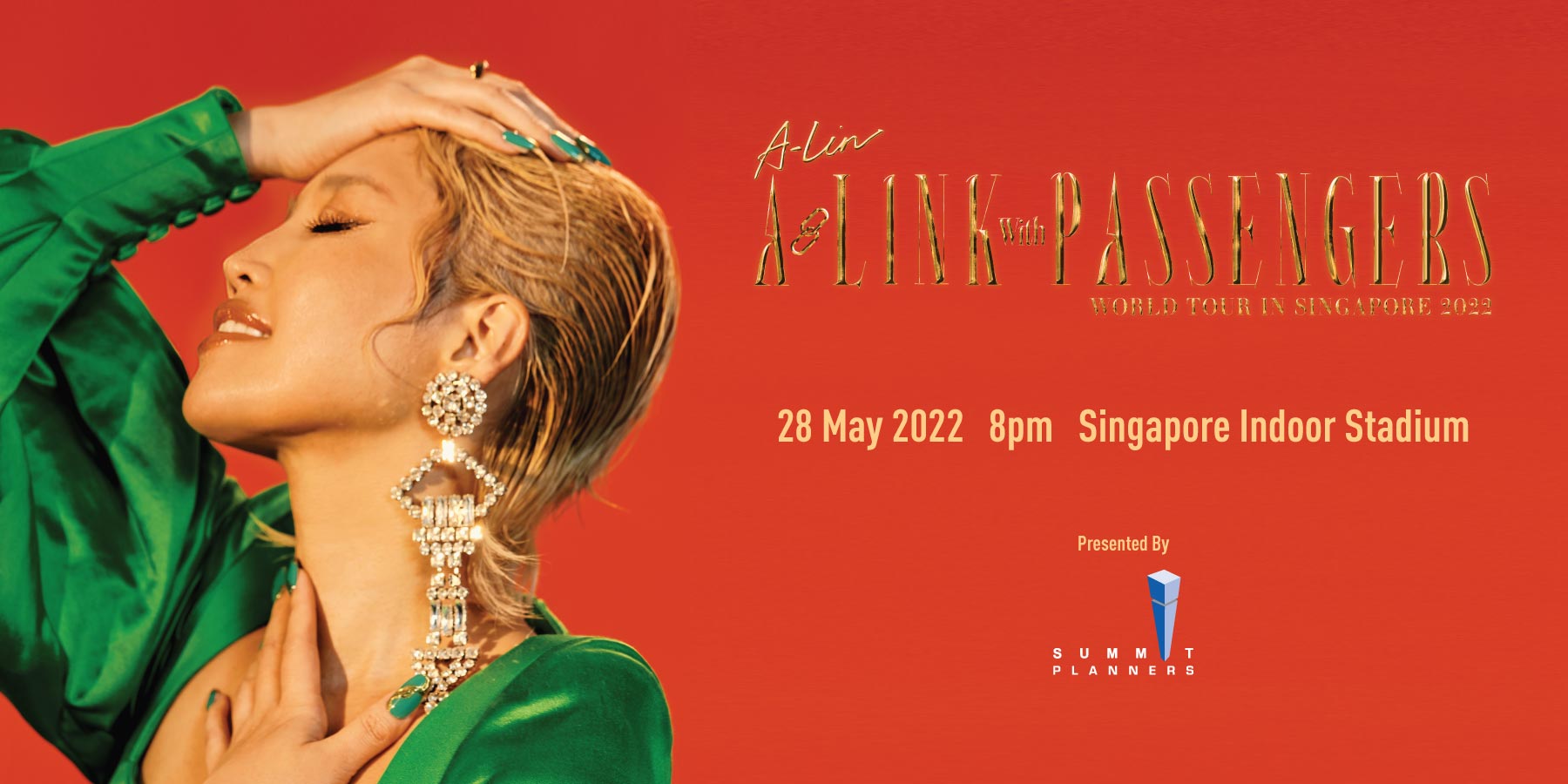 Concert Details
Are you ready for LIVE Concerts?
The wait is over.
Let A-Lin kick off the prelude to the performance, detonate the heat at Singapore Indoor
Stadium on 28 May 2022, 8pm.
Mark your calendars as Taiwanese singer, A-LIN, will be in Singapore this 28 May 2022 to kick start
her latest World Tour. A-Lin will be the First Performing Artiste to entertain a live audience of more than
7,000 capacity at the Singapore Indoor Stadium, the very first big scale Live Concert since March
2020. On that date, "A-Link with Passengers World Tour 2022" will take off from Singapore.
A-Lin hopes that everyone can come to her concert in a "healthy, safe and happy way! "
感情的 Link 讓情緒波動
故事的 Link 讓生命感動
我們的 Link 讓 A-Link with passengers
正式啟動
是你,我想再唱下去
是你,我讓旅課延續
你聽見感動的聲音,是我
你生命故事的連結,是我
未知的旅課,我們繼續前行
A - Link with Passengers
Listen to her beautiful voice
It stands out in the crowd
Never forget her songs
Keep them in your heart
Date & Time
Location
Description
Saturday
28 May 2022
8:00 PM
Singapore Indoor Stadium

Tickets On Sale: 11 April 2022, 10am at all SISTIC channels.

Ticket Pricing: S$288* (VIP Package), S$258*, S$228*, S$188*, S$128* (*excludes $4 booking fee)

For ticket purchase details, please visit www.sistic.com.sg

Only a limited number of 500 VIP packages will be made available. The VIP package, each includes a concert tickets, a CD of the latest album autographed by A-Lin, and a signed poster. In addition, all VIP ticket holders will stand a chance to win the MEET & GREET OPPORTUNITY to meet A-Lin in person. 50 lucky winners will get a chance to take group photos with A-Lin, in a group of 5, after the concert.

门票将从4月11日,早上10点开始,正式发售。

票价分为:$288* (VIP 套票), $258*, $228*, $188*, $128* (*不含S$4 行政費)

售售票详情,请查阅 www.sistic.com.sg

基于安全管理措施的关系,无法举办近距离的大型签名会,因此,这次将特别增设限量 VIP套票 500份。VIP 套票包含演唱会门票,A-Lin 亲笔签名的最新专辑CD 以及签名海报。除此之外,通过抽奖方式,选出当中的 50位幸运儿,在演唱会结束过后,出席 A-Lin Meet & Greet 合影留念。